Jody is a true multi hyphenate. She's an actress, director, writer, dancer, and jazz and blues singer. She's gone coast to coast acting on the stage, in television and in movies. She's opened for performers such as Harry Belafonte and Louis Armstrong and has received prestigious honors for her singing career. Jody has recently appeared in award winning films and shorts and is working on even more new projects right now. Here, she looks back at her long, distinguished career and talks about what's next.
1. You were born in Ottawa, Illinois. Can you tell us a bit about your childhood? When did you know that you wanted to act?
My family migrated to America from Germany and Whales circa 1800s landing in New York. The adventurous Schafer's and the humble Richards, who were renamed Jones once they crossed the US border, eventually gravitated to Illinois. Most became pillars of their communities with a few interesting rogues mixed in (thank goodness)!  Generations down the line, a lovely, spit-fire of a young woman met this handsome John Wayne type young man, they fell in love, married and voila' created me.  Almost immediately after my birth, my dad was called to serve in WWII and joined the Navy Seabees. Once he returned home from the war, my family along with some other of our relatives relocated to Ferndale, Michigan next door to Detroit.
The story I've always been told by my parents, is that by age five, I wanted to sing, dance and be an actress like the kids in costumes I saw in the Sunday newspapers, magazines and on television. We were a typical middle American family, just getting by financially, but my parents were always supportive of my dreams, so they set aside monies to afford the training I would need in the arts. In Detroit, not too far from our home in Ferndale, was the Monte Carlo Studio, where at least once a week I took lessons in acting, singing and dancing. I have to chuckle when I think about it now: While driving me to and from class on those nights, my mother would always take the short-cut through the huge, winding roads in the park that connected/divided Ferndale and Detroit, and every single time she would get lost — every single time! I do laugh about it now, but it was so very stressful at the time. It certainly took some of the joy out of it, but my mother persisted in order to help me reach my dream.
So, it seems that it really is true that at that early age I already knew that I wanted to be an actress. I never have envisioned being anything else for as long as I can remember, although I absolutely loved singing and dancing too. My desire was to study drama and become an actress who could sing and dance.
As I attained the ripe old age of twelve (and I promise you I'm not going to break-down my childhood much longer, so keep reading please) …. anyway, it was around this time that I was introduced to a fabulous theatre company, Will-O-Way Playhouse in Bloomfield Hills, run by several generations of the most wonderful, and truly theatrical family. Think old-world: Shakespeare, the Barrymores. I wanted to submerge myself in their culture and soak up all the knowledge they afforded me… I practically lived there!
I truly became family… and felt so privileged and honored. Eventually I advanced to an apprenticeship and used all the skills I was taught (performance, makeup, lighting, scenery, etc) to perform in, and/or assist many of their professional productions presented at the Will-O-Way Apprentice Theatre and Repertory Company which included working with acting genius George C. Scott early on in his career. That was a great experience. Even after my family and I moved out to horse country in Rochester, Michigan, I continued my apprenticeship at Will-O-Way.
2. You started your career in Michigan with a variety of appearances on stage, film, tv radio, etc. Which medium did you enjoy the most at the time?
Oh my, that's really difficult for me to answer.  As long as I was creating and working, I was enjoying myself, just like now. I have always loved the challenges of each medium.  But I absolutely love the collaboration when working in film or television. There's such trust between the different talents to produce the director's and/or producer's vision, which is so awe-inspiring and so dang exciting. That was my goal as a young aspiring actress for sure to be on the screen. At my young age, as blessed as my life sounds in these answers, I had already lived and was still living a heavy life. I wanted to now live up there on the screen and make you, the audience laugh, cry, be afraid, etc. and of course enjoy my own release of emotions.
Once, the acclaimed, Sir Basil Rathbone (Shakespeare, Sherlock Holmes), requested a command performance of "Taming of the Shrew", at the Will-O-Way Playhouse, specifically to see me as Kate. I swear, my feet didn't touch the ground for many, many months, it was such an unbelievable honor.
Whether doing live theatre or singing on stage, the adrenaline I feel/felt from a live audience is addictive and exciting! Different, of course, from the intriguing magic felt on a film or television set. How does one compare them? Oh and then there's radio which was and is so much fun… no-one can see you! And it oft times can be so spontaneous! That's thrilling! Voice Over work falls right in there too! I LOVE doing voice overs! One of my very favorites is "I, My Me Strawberry Eggs" I was referred to the production company from one of their other vo actors. I was so happy that they wanted a gruff voice for this fun character Ruru the short, grumpy landlord, because we recorded first thing in the morning for most of the 13 episodes… thus my morning voice was perfect for this lead! I enjoyed doing a spoken word CD with Jack Donner (Star Trek, Stigmata): Hearts on Fire an original written by Jack regarding the state of Man (today), how we got there/here and how we can extricate ourselves from this mess. I was fortunate to work with Jack on several films/television: "So This Is Love", "2Bedroom 1Bath", "Screech", and "Chinaman's Chance: America's Other Slaves."
Okay, here's the short answer: I enjoyed whichever venue/medium I was participating in at the time! That's a bit corny maybe, but true…
3. You worked in theater a lot in the beginning, what was your favorite production?
When I moved to California, married, had my two precious children, and divorced, I attempted to schedule one play a year. Theatre helps me refocus, concentrate. I'm not good at making choices for just about anything in my life, so here are my first initial responses: The Ira Levin (Rosemary's Baby) play, "Veronica's Room", may have been the deepest I've gone into a character in theatre, for such a long run.  My role had several extreme personalities with different accents (Boston, Irish). This spine-chilling thriller was pretty heavily engrained in my spirit… so much so, that when the run ended, I had difficulty separating myself from the character and was worried that Veronica (me), would be locked in her room forever…. because I (Jody aka Veronica) would not be there the next night to let her out. (You may need to read/see/know the play to understand my reference, sorry)  Something meaty like that, is an actors dream role. Thank goodness, that I had to earn a living at the time which helped bring me back to reality sooner! (tee-tee) I was administrator at Ilona of Hungary Spa and Skin Health in Palm Springs, but I did go in and out of a really bad Irish accent for quite awhile!
Actually, I think a production becomes a favorite mostly because of the people you're fortunate to work with. The Desert Theatre League in Palm Springs honored me more than once with a Best Supporting Actress nomination, and this time it was as Hester Salomon, the magistrate in the haunting production, "Equus". This was thrilling of course, but what made this production magical was being directed by the fabulous award winning actress/director, Judith Chapman (Young and the Restless, 4 other soaps, 28 Days), and working with Best Actor winner, West Holden (yes, Bill Holden's son). We developed beautiful and lasting friendships during that time also.
Oh golly, now you've got me reminiscing and I'm coming up with all sorts of "favorite productions." Of course "Taming Of The Shrew", and I had a blast as Irene Livingston, in Moss Hart's comedy, "Light Up The Sky".  Very weird for me to be cast, but a privilege to be Mrs. Popov in Chekhov's, "The Brute", performed for and in honor of the Russian Dignitaries visiting Palm Springs.
4. You began your film career as a roller skater in Skatetown, USA with Patrick Swayze in his feature debut. What was that experience like?
Oh my… well, Patrick was gorgeous… and untouchable with all the skating going on. Plus there were tons of comedians and comic actors in this film. It's a wonder anything got done! But it was fun… and of course, I fell. Not badly, but down. I learned the power of an editor from working in this film. I was so certain that it was going to be a really funny, good film. I was wrong.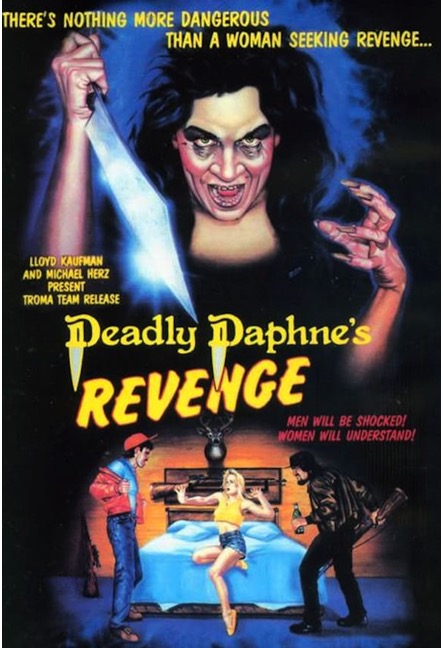 Actually, my first film with dialog and a necessary character, was "The Bigot" aka "The Hunting Season" and now remastered and distributed by Troma Entertainment, aka "Deadly Daphne's Revenge". It's one of those movies that could become a cult film, or are so (bad) that calling them camp might be a stretch! I had never seen the film and hadn't thought about it for decades. Out of the blue (30-40 years later), I get called by a representative from Vinegar Syndrome (digital restoration company) requesting an interview. Who? For what? I'd love to… when? They sent me an old copy to watch before getting together to film my interview which was to be used as an Extra Bonus on the upcoming Blu-ray, and DVD. You could probably hear me laughing a block away as I watched the movie… and believe me, it's far from a comedy. Oh dear, what can I say during my Q&A taping? It appeared that I was the only person still alive to speak with them about the filming experience and they were delighted to find me — plus I didn't charge them an arm and a leg for my time and image usage. I finally concluded near the end of taping, that I liked being connected to a cult-like film – kind of campy! All the new DVDs and Blu-rays have been sold with sadly, no plans to press more. I have two… I think.
5. What prompted you to move out to Los Angeles?
The simple, uncomplicated story is that, my parents allowed me to take my college money and instead of Carnegie Tech (before merging with Mellon), go to New York for awhile to make the "rounds", making appointments with agents, recording managers, etc.  I had made arrangements to spend an afternoon with Lee Strasberg and family at their home. I had hopes of joining the Actors Studio, but I was too young at seventeen (17). Lee was genuinely sincere suggesting I return the following year to meet again. I never did. So, after lots of fun and frustration, disappointments in NYC (and too many really great stories to write about here), I returned home to Michigan.
Okay, so here's the turning point: I learned that William Castle (Tingler, etc), the iconic, eccentric horror film director, was holed up in an office at one of Detroit's most majestic movie theaters prior to screening his 3-D film, "13 Ghosts" (I think it was that one.) I snuck into the theater, climbed the gorgeous carpeted, winding staircase… and boldly entered "the" office. Thank goodness, Mr. Castle liked my gumption and didn't throw me to the wolves! We had a very brief bit of dialog and then he assured me that if I ever move to California, he would take a meeting with me. He then handed over his contact info and said to bring one of my parents with me. Then he escorted me to a seat in the theater to watch his film! Well, to Castle's surprise, I did call for a meeting, for indeed, we did sell our home, horses, business, and move to California for me to be in pictures… oh, and also because my mother liked the idea of living in sunny California. The meeting didn't give much hope to this young aspiring actress. My determination to be an actress continued anyway. I wasn't looking for the fame that Castle was talking about. I just wanted the opportunity to work often at what feeds my passion.
6. You are also a jazz and blues singer. Were you trained? How did you get into it?
I really have no formal training.  I took some lessons in learning to sing certain songs. I made a stab at learning to play the piano and guitar to accompany myself to absolutely no avail. My mother was the one wishing I would choose to be a singer over an actor. She was always playing music. I definitely enjoyed working as a singer, although I had a habit of not picking up my pay checks. I felt like: "I'm doing something I love and expressing myself… and I get paid too? Wow, what a concept!"
I received most of my training by doing. I started out as a country singer following headliners like Hank Williams Jr., performing at fairs, night clubs with Eddie Jackson and The Swingsters, at horse shows/rodeos and various city events, wherever I could get a gig. I was booked to be a regular singer (don't laugh) on Cal Worthington's Country Music Time television show, but didn't last very long. I was let go because I wasn't country enough. I think my last appearance was with Sheb Wooley ("The Purple People Eater") — go figure. But I enjoyed it all like: while working in Vegas, I had an open invitation to pop over to the New Frontier and jam with the Ink Spots but of course it wasn't country! It was great songs from the 30's and 40's. I didn't realize my forte would be more in the line of free-styling like with jazz.
In 1998 I lost my precious Michele, my daughter and needed to find solace somewhere. I began listening to the soothing music of Anya, and oddly enough I then discovered the haunting melodies and familiar pain in the voices of Billie Holiday and Nina Simone. They resonated deep within me… thus I slowly entered blues… and jazz. I don't consider myself either style, but the world wants a label. I just tell stories…
7. You've opened for artists like Louis Armstrong and Harry Belafonte. Wow, what an experience. Can you tell us a good story from your time performing at these shows?
I absolutely can, and such a ridiculous, heartwarming story too about when Harry saved me from getting fired.  We were working at the Riviera Hotel, in Las Vegas and it was nearing show time. Earlier in the day, a few friends and I had gone horseback riding and encountered many mishaps; broken saddle straps, getting lost, and then being deserted by the guy with the car! That left two of us hitch-hiking back to town and finally getting a ride on the back of a pickup truck. I don't know how the Vegas Entertainment newspaper got hold of our antics, but they did with a little blurb about us being bruised and dirty on the back of a truck, etc. I managed to get to my apartment, clean up, and backstage just in time to sashay on to the stage…I thought… But, I guess not! The stage manager would not allow me to go on! He also docked me for the second show! Well, guess who started to weep as she walked away? Bless his heart… seeing me upset, Harry came to my rescue and guided me to his dressing room to get my story. I was even more upset by then because, as I told Harry, "my mother said I would never make it, because I'm always late." Yes, sweet, handsome Harry spoke with the manager and all was well again. Harry gave me his personal contact info to use should anyone give me a problem after his engagement is over… And… that they had better extend my contract as he suggested. Oh wow! What a blessing.  Side note: It's a small world too, because a few years ago, here in California, unbeknownst to me at the time, I was singing with Harry's bass player John Cartwright who remembered me from Vegas!  What a treat… we (John and I) teamed up another time at a jazz jam and we call one another once in a blue moon.
Yes, Louis Armstrong did indeed smoke two (2) cigarettes at once most of the time. He definitely sweats up a storm, and always carried a white handkerchief because of it. We talked about his sweating and he shared that it's mainly because he gets so nervous right before going on stage. He mentioned that he feels blessed with those nerves, stating that they help him push towards a better performance, and that if he doesn't feel nervous, he would rather not go on. He would feel the show was going to be boring and not worthy of an audience. An amazing man.
8. In 2015 you were named a "Jazz and Blues Living Legend" and inducted into the foundation by the Duke Ellington Society of LA. Tell us about receiving that honor.
I simply received an unexpected phone call one day… and afterwards I wasn't sure just who I was anymore. I thought:  They must have made a mistake, thinking I was someone else. It does happen. So, I called back to Linda Morgan (founder of JazZabration) and graciously said:, "How lovely of you to ask me if I would accept this very precious honor, but I'm certain there's been an error. I've never met you… and you don't know me, do you?" Well… evidently, I got talked about often enough that the word spread around and reached a few of these societies. They became intrigued enough to so some research about me… and that's how they know me. I still felt very uncomfortable and in disbelief. I said that I didn't have a great voice, had only been singing in LA a few years. And please, don't take offense from my reaction, but I am very confused. I then asked the big question: "Could you tell me WHY I'm being considered to receive this honor?" Here's what she said, "You are a song stylist. A soulful singer of stories for over 25 years. But even more than that, and what has touched us mostly, is that you inspire other's to never give up on themselves or their passions. We would like to recognize you for that." So, that was acceptable to me, a reason that I could wear fairly comfortably.
The next thing I knew, I'm being scheduled to headline at one of the official events to celebrate "International Jazz Day 2015" created by the UNESCO (United Nations Educational, Scientific and Cultural Organization), and held annually since 2011 around the globe in more than 200 countries. Besides the Duke Ellington Society of Los Angeles, I received commendations from the City of Los Angeles, NAACP Beverly Hills and Hollywood, JazZabration, and of course Jazz and Blues Living Legend Foundation. Truthfully, I'm still numb.
OH! And Ms. Morgan also said to make sure I bring plenty of my CD's to sell or give away at my show, but bring enough. OMG! I never recorded a CD! Ding! Ding! Ding! Within three (3) weeks I rehearsed, recorded, mastered, and dropped a CD with 12 tracks! And I created artwork for the CD sleeve and disc! Thank goodness for my talented family of musicians who joined me on this crazy endeavor and rescued me by playing, while other friends offered up their expertise and for a very small fee, a recording studio. Just in time, WHISPER LOW was delivered! Never again…!
I realize that I have written way too much already, and I say I don't like to toot my own horn, or name drop, but the most precious honor I ever received was being awarded the prestigious USO pin for my dedication and years of entertaining our armed forces at military camps and US Naval ships. Now that honor touches my very soul.
9. Are you still singing?
Yes and No.  Due to the Covid-19, I haven't accepted any gigs even though some venues are starting to open and book talent. I have been invited and I have done a couple of guest singer spots on Zoom shows. There certainly are virtual shows that can be somewhat successful for those used to working, but the money is really weird. But who sings for money in LA, right? Har-Har…So many of us miss doing even our charity gigs to help rape victims, abused women/children, Aids research, suicide prevention. Eventually I'll get back in the swing of music again. I only hope my favorite venues are able to reopen: The Gardenia, Vitello's and Catalina's Jazz Club. For now, once in awhile I'll stop by a Zoom jam session and sing. It's so sad what's happening to all creatives during this time. I used to sing with major musicians who toured with Sinatra, Streisand, Etta James, Chet Baker, Santana, Dionne Warwick, Smokey Robinson. Musicians like: Tony Dumas (bass), Ralph Penland (jazz drummer), Tod Hunter (pianist/composer).  We all miss the personal contact. The live energies. Even miss the technical glitches… but for now, virtual performances I suppose, are better than none at all.
10. What has been your favorite film or tv show that you've worked on?
Again, it's not usually the project, it's the people… My most favorite I would have to say (and it may always be–who knows) is the gritty, award winning indie feature written, directed, and produced by Dylan Reynolds titled, "Chain Link". Dylan created earthy characters caught up in devastating believable cycles. The frosting on the cake is that a good many of us have become active friends since filming years ago. 
Working with Adrien Brody on "Hollywoodland", directed by Allen Coulter was enlightening. Adrien had Coulter embellish my small role and film it, which we did, but of course the extra footage wasn't necessary to the story so it didn't make the cut.
Many, many life-times ago, I worked as a stand-in for all the lead actresses who were guests on "Michael Nesmith's Television Parts". I had fun every day for months! Different comedic scenarios with different comedians daily, a variety of super directors and great camaraderie. Frequently I'd have dialog, but mainly I played-out all of the female comedy situations from a hooker, to a circus performer, to a 1950's high school student and more hilarity. What a life, eh?
You know, it would be much easier to write about the very few films or TV show(s) that weren't my favorite(s). Would be very rare animals indeed, because I find there's usually something unique, or a special someone in every project I've worked on that endears it to me. Nailing a one take plus security take on "Terminator: The Sarah Conner Chronicles" was pretty cool. Being directed by Mike Nichols for a couple of weeks on "Charlie Wilson's War"with Tom Hanks was a treat. So you see, all productions are favorites in their own unique way.
11. Tell us about Fragile Storm.
Right off the bat when I got word of this production, I wanted in on it because of Lance Henriksen (Alien, Millennium).  I figured if Lance was on board, it must be a gritty kind of story with substance, and I would be playing his wife, which wouldn't be too shabby either.
The script had me in tears by the end, with a twisted, deceiving approach to this devastating ailment… Alzheimers. Just like when I auditioned for "Chain Link", this role fit me like a glove. During our filming, this fabulous, creative, award winning director/co-writer, Dawn Fields shared some history regarding the difficulties experienced to get "Fragile Storm" to this point. It seems, she had cast the film more than a year earlier and filming had begun. Dawn's very specific vision was not developing, not even close. The actors were talented, but just weren't working out and neither were some of the key crew members. She felt the vibe were all wrong. So, gutsy Dawn stopped production, let everyone go except the young female actress Mackenzie Mason, and cut her losses. She set it aside for a year and focused on getting Lance Henriksen to accept the role of Norman. Now only one actor remained to cast with her new shooting schedule less than a week away. Timing is everything. Two (2) days later we are all on a sound stage outside of Los Angele s. It's deserving and insane how many awards "Fragile Storm" has won. It's more than worth the ten (10) minutes it takes to watch it. What a ride! It's now part of an award winning collection of short stories "Her Mind In Pieces" each story directed by women, about women struggling with various mental and emotional issues. If I'm not mistaken, I believe Ros Gentle is in one of the stories.
12. Your film Mother's Day Memories has gotten some really great reviews. What was that experience like?
I must admit it puts a huge smile on my face when a film, tv, or stage show that I've been involved with, gets positive recognition. Absolutely delightful.
As in "Fragile Storm", I'm a victim of the ugly Alzheimer's disease, only in "Mother's Day Memories", I'm in earlier stages of illness. It was an honor to be chosen for this touching homage which Bill Hoversten wrote/produced and played himself based on the real life tragedy experienced with his Mother. Much of my dialog was the exact verbiage spoken by Bill's mother during those extremely sensitive moments. Bill's ability to relive them with me, was remarkable. I did my best to do justice to the memory of his mother. It was a very daunting experience yet so beautifully full of compassion and love all around. In the film there is information learned that was not part of the real life story, but certainly added a twist near the end. Sadly, the truth is, Alzheimer's disease tragically plays out this painful scenario in too many homes across the world. Bill honored not only his mother in his story, but all families afflicted, and was courageous enough to share it… thus letting others know that they are not alone in their pain.
13. What's up next for you?
I'm deep in rewrites and loving it, on an Action/Fantasy/Romance feature film; "Return Of The Sacred". I'm obsessed with tightening up the story and sub-text, etc. This film will take a chunk of money to produce due to the special effects needed. Wish me luck!
At the moment I have two different National commercial spots airing… thank goodness. I have a feature "Blood Born" and three shorts in post, one of which is a stretch for me as an old woman who is a younger Queen in another dimension who is actually a white horse in "Mykonos Blue"a tweens fantasy series, and two productions "Life Goes On" and "Born in his Body" waiting for the pandemic to allow their productions to safely go (back) to work.
My directing debut garnered awards for my psychological short "Traces Of Memory" and since then I've been wanting to direct a short again. I learned so much that first go at it… I would love to see what difference my additional knowledge would make this next time around. For now I'll satisfy that desire and keep busy directing/taping/editing my actor clients with their self-tape auditions and demo reels.
Since the pandemic, like so many others, I teach acting on Zoom. Zoom has become our go-to tool…!
Hmmmm, maybe I'll finally clean house, do my taxes, cut my hair…